That turned out to be a good bit of Pi and a good turnout for both nights with people young and not-so-young converging from far and wide.
The NottingHack Raspberry Jam soon had a mini-Brambleweenie collection blinking their lights and displays. See below for a few pictures from the night. They will be continuing each first Tuesday of the month: Raspberry Jam Sessions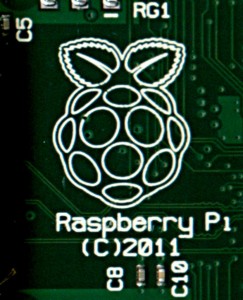 The following evening's NLUG talk covered a little of the history leading up to the RasPi and there was good discussion for how the RasPi has become such a worldwide phenomenon. A surprising number of us in the group were up at before 6am one certain morning when the websites for Farnell (element14) and RS were soon overwhelmed! (And as of this posting, they are still overwhelmed by demand such that you must "register your interest" for just one RasPi per person to then order later as deliveries arrive.) There is already a series of mini-industries that have sprung up overnight producing cases and add-ons. The big question is how (well) the RasPi gets adopted by schools, teachers, and their pupils. Or might a RasPi home revolution itself be enough?
We saw the 8-bit home computer industry develop in the 1980's, with a large driving force from computer games. That spawned the demoscene and the ARM developments. Those both have significantly shaped the games and computer world we now have today. Through the 1990's, arguably we then drifted into a locked-down world of games consoles and very expensive PCs that stifled any opportunity for children at home to experiment or to learn the art of computing. In the world of proprietary restrictions, the older positive meaning of computer "hacking" to develop new code was instead transformed into the negative and unsavory meaning today that suggests the 'illegal break-in' of (proprietary locked-down) systems… Have we really made home computer development illegal?!…
This is where hopefully the freely open and charitable status of the RasPi can re-generate the art of home grown computer technology creativity and development.
Web links from my talk included:
And as for The name 'Raspberry Pi': we wanted a fruit name for nostalgic reasons; In the early days of Home Micros, there were a number of "Fruit" named computers. Apart from Apple, Apricot and Tangerine spring to mind; and the Pi is from "Python interpreter" that is adopted as the 'official' language for the Raspberry Pi.
To finish with a well known phrase from a well known figure who uses the old very positive meaning from the early days of computer development:
Happy hacking!
Or… Rather should that be that this is a new beginning? I'm sure we'll be hearing and seeing more of this 😉
Cheers,
Martin
From the Nottinghack evening: Raspberry Jam – Raspberry Pi User Group BEGINS!
More pictures of the Nottinghack evening can be found on: