rms – The Free Software Movement
23/06/2012 @ 1:30 pm

-

3:30 pm
The Leicester Linux Users Group have organised a talk by none other than Dr Richard M Stallman to be held at 1:30pm on Saturday 23rd of June at De Montfort University, Leicester:
The Free Software Movement
The Free Software Movement campaigns for computer users' freedom to cooperate and control their own computing. The Free Software Movement developed the GNU operating system, typically used together with the kernel Linux, specifically to make these freedoms possible.
All Welcome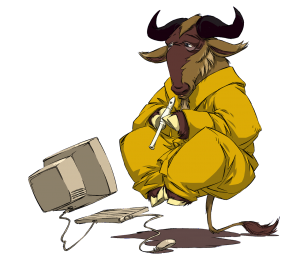 The event is about freedom, and is also free as in "[free] beer" (no cost).
Also, Nottingham LUG and anyone else interested are invited to join Leicester LUG for beers afterwards. Meanwhile in true rms style, this is very much a flying visit as he continues his continuously hectic schedule onwards.
Guaranteed to be interesting and thoughtful, and all too brief for the significance of the subject. Likely controversial also 😉
For any further details, please contact the Leicester LUG organizer for the event. (Room number to be sign-posted at Hawthorn Building entrance.)
Aside:
The lowercase "rms" for his initials harks back to the very early days when there were very few computer users and so you often had a computer user login name that was just your initials, and usually all lower case from those days of big mechanical teletype machines that were single-case, or just too darn irksome to bother shifting case. Another very famous set of lowercase initials from the early days who unfortunately has recently forever "logged off" was dmr.
7 comments to rms – The Free Software Movement