and
proudly present
Dr Richard Stallman
Sunday 10th March 1:30pm to 3:30pm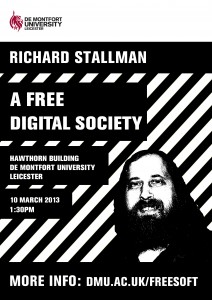 This is a non-technical talk by the founder of the Free Software Foundation.
Richard Stallman is one of the most influential speakers on the topics of Digital Freedoms and Free Software. If you don't know who "rms" is, or the significance of those initials in lowercase, or even what GNU might be, then you definitely should come along!
Please book (DMU website) to reserve a space if you definitely know that you will come along. Please also consider adding your email to the FSF events maillist for any future events nearby.
(Talks by rms normally attract many hundreds of attendees, so best check now to gain a place.)
Sunday 10th March 1:30pm to 3:30pm, at:
Hawthorn Building
De Montfort University
Leicester, LE1 9BH
The entrance is from the pedestrian area between the Hawthorn Building (17) and the Hugh Aston Building (18) on the DMU campus map (pdf). Detailed directions to the campus are available here. There is free parking in the DMU main carpark in the centre of the campus. The train and bus stations (pdf map) are about a 20 minutes walk away.
Guaranteed to be a good talk and fundamental for all our freedoms.
Cheers,
Martin
This event is about freedoms and is also free of cost. On the day, we will welcome any donations to the FSF.