"Invisible airwaves crackle with life
Bright antennae bristle with the energy
Emotional feedback on a timeless wavelength
Bearing a gift beyond price, almost free"
Geddy Lee
"Never play anything the same way twice."
Louis Armstrong
And in sharp contrast utilizing digital controlled unblinking repeated exactness:
Music Player Daemon (MPD) is a flexible, powerful, server-side application for playing music. Through plugins and libraries it can play a variety of sound files in a variety of ways while being controlled across a network.
Or in plain-speak… The music mix is:
Take your collection of sound
Add MPD
Connect your Computer/Laptop/ePad/Smartphone whatever gizmo on your network/internet
Using your connected device: Select play!
Then hear whatever your sounds might be on any of the sound outputs of the MPD device itself, or listen to the audio streamed onto your gizmo. All very cool for those well connected folk for which no memory stick can be big enough! 😉
This is a simple example setup and demo of MPD in action as controlled by a variety of devices. This is also a vast underutilization of various computer devices being subjugated to the menial role of that of an old-style "IR remote control"!
And apologies in advance for my example unmusical sound files most likely being of a far-out eclectic taste 😛
All welcome in the cozy ambiance of The Falcon Inn. Good beer and good discussions guaranteed!
(Non-beer drinkers and new starters all welcome all alike 🙂 )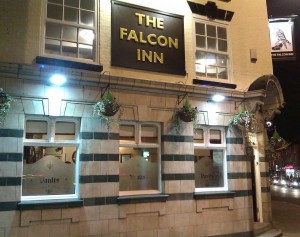 7:30pm Thursday 17/04/2014
The Falcon Inn
1 Alfreton Rd
Canning Circus
Nottingham NG7 3JE
Phone: 0115 924 4635
OpenStreetMap: Falcon Inn
On this occasion due to the techno-geekie gear, and so as to not scare the non-techno regulars, we'll be up above in the room upstairs. Please ask the friendly bar person if lost!
(Some of us will be meeting beforehand in the Hand & Heart (facebook: H&H) nearby for food and pre-drinks.)
For all 'experts' and non-experts and new starters alike: All welcome! Just come along 🙂
Cheers,
Martin